Last year the gift was welcomed very much, so I am going to upgrade and provide it. 😉 
Like this.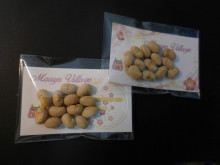 There are two types of cards in the package.
Sayuri made the cards.

I cared about the number of beans!
I heard the number thirteen is regarded as unlucky in Western countries, but I like the number. 😉 
"13"
10(Sufficiently) 3(Filled/Bear Fruit)
It means that devils out, happiness in!
Also, hoping this year will be even more successful for you I planned it. 🙂 
I will put beans one by one in a package.
Also, of course I will copy Hado(wave motion)  which has the intention of devils out, happiness in to the beans. 😉 
Who got the beans said "I ate the beans one by one carefully.
Throwing beans, displaying it somewhere or putting it in purse…
Also, on one's own responsibility you can eat them. 😆 
I will give the beans as a present to whom ordered MV product from MV online shop by Jan. 31 at 11:59 PM Tokyo Time.
One package to whom ordered MV products more than 30,000 yen.
Two packages to whom ordered MV products more than 50,000 yen.